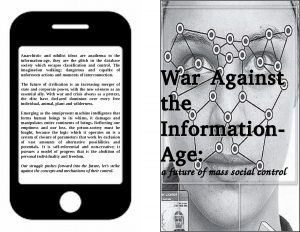 From back cover:
Anarchistic and nihilist ideas are anathema to the information-age, they are the glitch in the database society which escapes classification and control. The imagination walking; dangerous and capable of unforeseen actions and moments of interconnection.
The future of civilisation is an increasing merger of state and corporate power, with the new sciences as an essential ally. With war and crisis always as a pretext, the elite have declared dominion over every free individual, animal, plant and wilderness. Emerging as the omnipresent machine intelligence that forms human beings to its whims, it damages and manipulates entire continents of beings. Reflecting our emptiness and our loss, the prison-society must be fought, because the logic which it operates on is a system of closure of parameters that work by exclusion of vast amounts of alternative possibilities andpotentials. It is self-referential and non-creative; it pursues a model of progress that is the abolition of personal individuality and freedom.
Our struggle pushes forward into the future, let's strike against the concepts and mechanisms of their control.