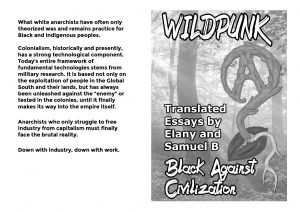 Originally published by 1312 Press, "Wildpunk: Black Against Civilization" is the first English-language translation of writings by Elany, a Black anti-civ anarchist from Switzerland. Her 2021 book Schwarze Saat collected first-time German translations of 85 diverse Black and Indigenous anarchist texts previously available mostly in English. The collection also included several German-original essays written by Elany herself as well as her late dad, Samuel B. "Wildpunk" brings these passionate essays into English:
Scorched Earth, Sick Bodies: The Necessity of Destroying Industry [Elany]
A Black Critique of Civilization [Samuel B]
Tools of Anarchism [Elany]
-Part 1: On Interpersonal Relationships (and Lived Anarchy)
-Part 2: On Decolonization (and the Technological Components of Colonialism)
-Part 3: On Decivilizing (and a Revaluation of the World)
Survival in the Endtimes: A Wildpunk "Manifesto" [Elany and Samuel B]
Elany and Samuel B's works tackle the brutal reality that we must demolish industry and civilization rather than attempt to separate them from colonialism, capitalism, and the state. They also examine the inspirations and practices of a decolonial, decivilized anarchism.
This zine hopes to make a small contribution to the task of translating essential anarchist thought by bringing these German-original works into English for the first time. Elany and Samuel B may now enter into direct conversation with the movements they helped to translate.
ELANY'S ARREST: During the translation and layout of "Wildpunk," Elany was arrested by the Swiss government (https://feralfire.noblogs.org/post/2022/01/31/update-zur-situation-von-elany-update-on-the-situation-of-elany/). She has remained in investigatory detention since January 9, 2022. The jail has denied her medication has been, restricted her outside contact, and forced her onto a meat and grain jail-diet.
Channeling Elany's spirit, her partner has called for: "No prison demonstrations and other actions in a certain place because a certain person is imprisoned but actions in all places because prisons exist at all. This would make her heart smile much more. No one is free until everyone is."
Fire to all the prisons!
Updates and asks on Elany's case can be found at feralfire.noblogs.org and via #FreeElany on Twitter and Mastodon.
Support offers or info requests can be directed to freeelany@riseup.net
Elany's original German-language writing and translations can be found at feralfire.noblogs.org, a "Black-led Ⓐ-Publication about Insurrection, Sabotage & Destruction, Wildness & Queerness, Anti-Leviathan, Anti-Ableism, Black and Indigenous Anarchism, and More."
Wildpunk_Black_Against_Civilization pdf